Tiny10 version 2303 has just been released. The newest version of this lightweight Windows 10 installation image aims to fold in some of the recently added advantages of Tiny11. NTDEV, the Developer of both Tiny 11 and Tiny10, says the latter is ideal for those with "a truly old computer," as long as it uses an x86 processor. The recommended lower RAM / storage limits of Tiny11 are about 2GB / 16GB, so Tiny10 should slot in slightly below this to save the day for Windows devotees looking to revive an older system.
In a social media thread, and on the official Tiny10 page at Archive.Org, NTDEV says that version 2303 of this project is based on Windows 10 LTSC 2021. This is going to be the last release of Tiny10, says the developer. The reasoning behind this decision is that the software has been "superseded by Tiny11."
Some of the niceties that were brought over from Tiny11 to Tiny10 include the ability to "update the OS and add new features with ease" via the component store. Security should also be enhanced by a fully functional Windows Defender app / service. Also, a much-requested feature that has arrived in the latest release of Tiny10 is Remote Desktop and Terminal Services.
In our coverage of Tiny11, we noted that the compact OS was comfortable with systems equipped with as little as 2GB of RAM, and only used about 12GB of disk space. Just for fun, some people squeezed it further. We don't see a hard reference about RAM requirements for Tiny10, but it should run just fine with 2GB given that's Microsoft's official minimum requirement for 64-bit Windows 10.
If you go back far enough in computer time, systems with 1GB or less were common until roughly 2006 or 2007. The arrival of Windows Vista in 2007, with its reputation for sluggishness and thirst for better hardware, helped make systems with 1GB RAM history, even though the reign of XP arguably continued until SP3's EOL in 2014. But 1GB of RAM is officially supported on 32-bit versions of Windows 10, so there's a good chance that Tiny10 will run at least reasonably well if your system is severely limited in the memory department. Within reason, of course.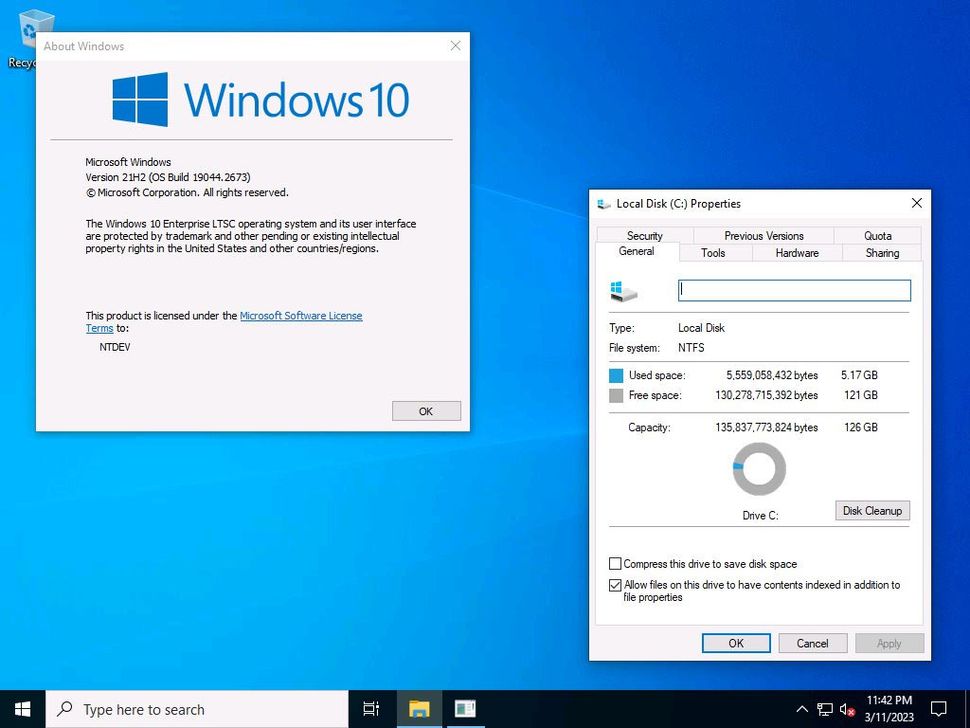 If you grab Tiny10, it won't be activated, but should work with old Windows 7 or 8 keys – which you may have on an old PC or laptop struggling with a regular Windows 10 (or 11) installation. See our tutorial on how to find your windows product key if your system has one. If not, see how you can get Windows for free or cheap.
When installed, this Tiny10 release uses just slightly more than 5GB of disk space. So drive space shouldn't be an issue for almost anyone.
We recently published a guide to installing Tiny11 on a PC, and tested the Tiny11 for Arm release on a Raspberry Pi. NTDEV says they won't be making a version of Tiny10 for Arm. We're sure that's probably disappointing to at least three people out there.