Semiconductor Manufacturing International Corp., China's largest contract maker of chips, has quietly removed 14nm fabrication technology from the list of its services on its website. The company also did not talk about advanced FinFET-based technologies at its earnings call last week, reports DigiTimes.
The U.S. government's latest export control rules prohibit Chinese semiconductor manufacturers from acquiring instruments and technologies required to produce non-planar transistor logic chips with dimensions of 14nm/16nm or less, 3D NAND chips with 128 or more active layers, and DRAM ICs with a half-pitch of 18nm or below. With similar restrictions from the Netherlands, Japan, and Taiwan set to come into effect in mid-2023, Chinese companies like SMIC and YMTC will be cut off from obtaining the equipment needed for fabricating chips on their latest production nodes, including 14nm/12nm and N+1 for SMIC, as well as 128-layer and 232-layer 3D NAND for YMTC.
Without access to advanced equipment and spare parts from suppliers like ASML, Applied Materials, KLA, and Lam Research, SMIC may be unable to build chips for its customers using its latest fabrication technologies, so it is reasonable to remove its 14nm platform from the list of its technologies.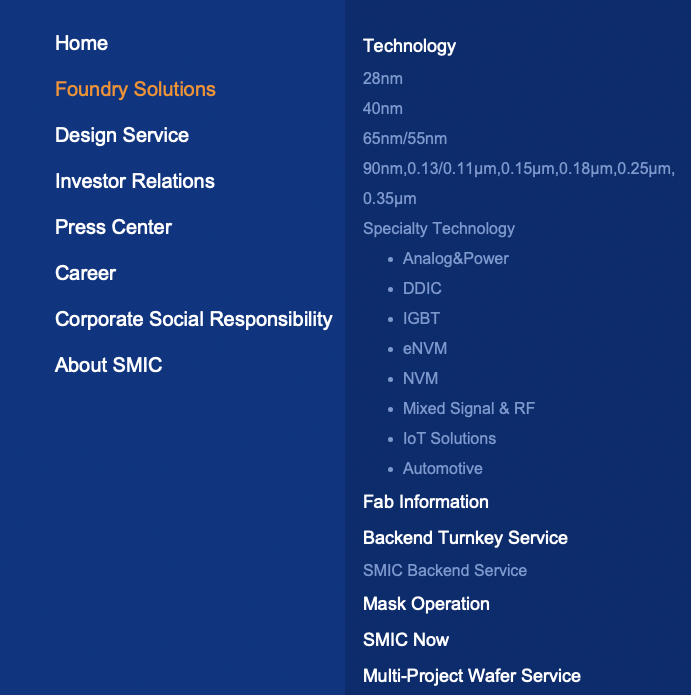 Meanwhile, the company's shuttle services page still mentions 14nm and even states that the company regularly produces shuttle wafers using this node.
"Currently, we provide shuttle services for processes from 0.18μm to 14nm on a regular basis," a statement by SMIC reads
Furthermore, another page at SMIC's website also mentions its 14nm capability.
"SMIC is a pure-play semiconductor foundry that provides wafer fabrication of 200mm and 300mm wafers at 0.35-micron (μm) to 14-nanometer (nm)," the description of the company's foundry solutions reads.
SMIC has been using 14nm-class production techology since the end of 2019 at its SN1 facility. One of the 14nm SoCs the company produced is Huawei's HiSilicon Kirin 710A. However, despite technically being in mass production, it looks like 14nm volumes were so limited that the company stopped disclosing the revenue attributed to this node. Instead, it combined it with the earnings from the 28nm node, which has not been a significant revenue contributor either.
Last year, Chinese state media reported that SMIC had initiated high-volume manufacturing on its 14nm-class fabrication method at its Fab SN1 fab near Shanghai, China. That report also suggested that the company is advancing with its 7nm and 5nm-class nodes, even though it is unable to acquire cutting-edge wafer fab equipment.