Nextorage (a company that's been closely associated with Sony) is releasing a new PCIe Gen 5 NVMe SSD, called the NE5N, with blisteringly quick read and write speeds rated to 10,000 MB/s, aimed at the enthusiast PC market. The drive is available for pre-order on Newegg starting at $249.99 (opens in new tab) for 1TB and doubling in price and capacity to $499.99 (opens in new tab) for 2TB, and will officially launch on June 5th.
We first spotted this drive in prototype form at the Tokyo Game Show, where Nextorage first indicated its intention to compete in the PCIe Gen 5 market, which is something we didn't think it would do just a year prior. The company has transformed a lot since its inception; it was originally thought to be a PlayStation 5 SSD supplier alone, due to its roots with Sony, but it has since morphed into a respected SSD manufacturer with SSD designs made for both console and PC that compete with the Best SSDs on the market.
The 2TB model has a maximum sequential write and read speed of 10,000 MB/s, a maximum random access speed of 1.4 Million IOPS, and an endurance rating of 1,400TB written. It also features 4GB of DDR4 SDRAM, with a maximum power rating of 11W.
As is often the case with SSDs, the lower-capacity 1TB model is a touch slower, maxing out at 9500MB/s read speeds and 8,500MB/s write speeds. Random access speeds remain similar, except for the read speed, which drops to 1.3 Million IOPS. That drive is also equipped with 2GB of DDR4 SDRAM instead of 4GB and features half the endurance rating at 700TB.
Sadly there is no 4TB version right now, but a 4TB prototype was shown during the Tokyo Game Show, so we suspect one might be coming in the future.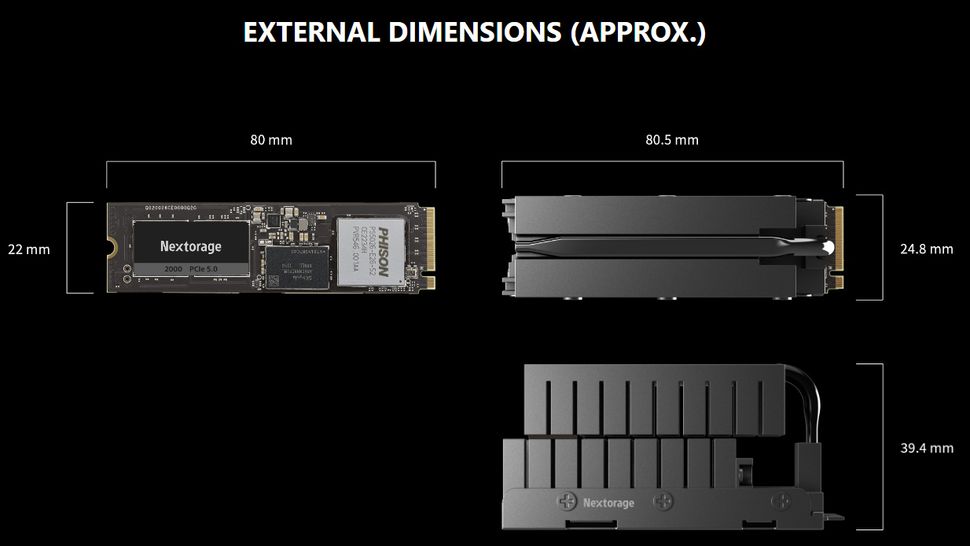 To cool the drive, there's an exotic-looking dual heatsink design to balance the temperature difference between the NAND flash and the SSD controller. It also features a patent-pending "two-story structure + heatpipe" design which is said to evenly distribute heat across the heatsink itself, to improve SSD cooling even further. The downside of this heatsink design is that it is very tall, which will prevent functionality with some compact PCs, as well as consoles and laptops. However, future versions of the NE5N will be made that don't come with a heatsink, for the purposes of utilizing a third-party cooler to increase compatibility with compact systems and laptops.
Technically, you should be able to use these drives in the PlayStation 5 with a third-party heatsink, but you will be limited to PCIe Gen 4 speeds, so there's no point in spending more for speed you can't use when there are plenty of good PS5 Gen 4 drives on the market right now that cost less.
Again, both drives will launch in just a month, starting at $249.99 for the 1TB model and $499.99 for the 2TB version.