InWin's latest PC cases are designed to be like origami. The company announced its new POC cases (it isn't clear as of publishing whether that's an acronym for something) late last week, claiming to promote "the development of dexterity skills both inside and out of a PC."
The $95 mini ITX cases, available on InWin's store, come in blue/black and green/yellow and ship in a flat pack. The set includes the pieces of the case, tools, a single 120mm fan and a PCIe 3.0 riser cable in a "tiny pizza box-like package." Replacement pieces sell for $18, except for the riser cable, which is $59 on its own.
There is a web browser-based assembly guide as well as mobile apps for iOS (opens in new tab) and Android to help guide you to fold the pieces together. You'll certainly want to follow the instructions carefully, lest you bend your case the wrong way.
The cases measure 17.6 x 16.4 x 1.78 inches (449 x 418 x 45 mm) and can fit GPUs 346 mm in length. They have a single 2.5-inch internal drive bay, have have three PCIe expansion slot (or can fit a 3.5-slot GPU). The GPU is in dedicated chamber to keep its heat away from the rest of the system.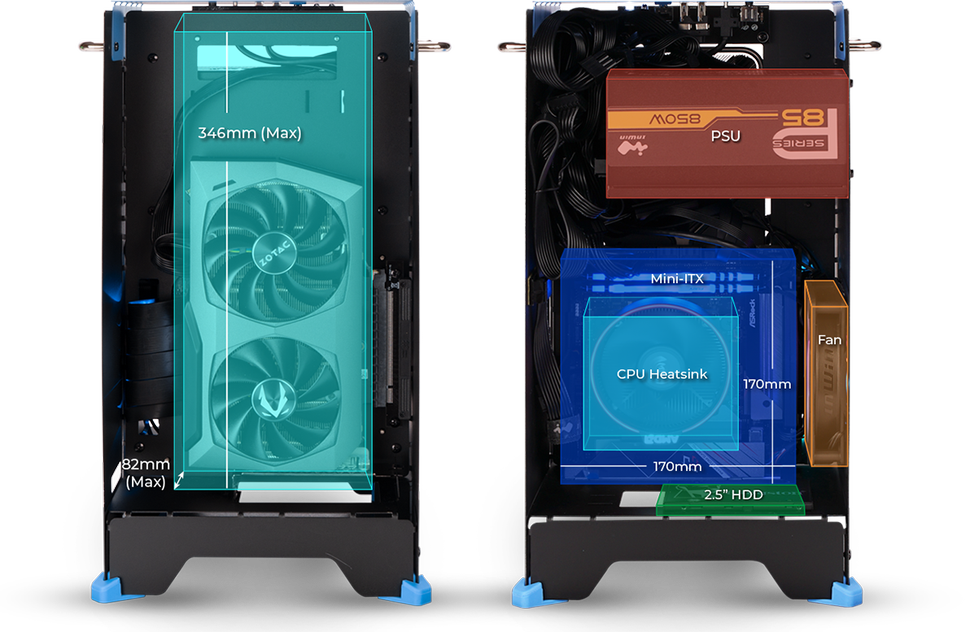 InWin's flat-pack PC case isn't a first. Teenage Engineering introduced its Computer-1 back in 2021, which looks quite similar to the POC cases, though it initially shipped in a bright orange. It is also far more expensive at $195 ($249 for the silver, raw anodized aluminum). That case requires an SFF power supply, while InWin states that the POC still works with standard ATX PSUs up to 160 mm long.
The company is putting the POC underneath its "iBuildiShare" banner, which it says is supposed to lead to "a much more enriching PC-building experience." Other cases in this lineup include InWin's Case Monster, Airforce and Explorer designs.
Since the parts can be purchased and assembled separately, it wouldn't be surprising to see some mixing and matching. Because the parts need to be pre-folded and arrive in pieces, maybe we'll see some interesting mods — or at least some unique paint jobs.