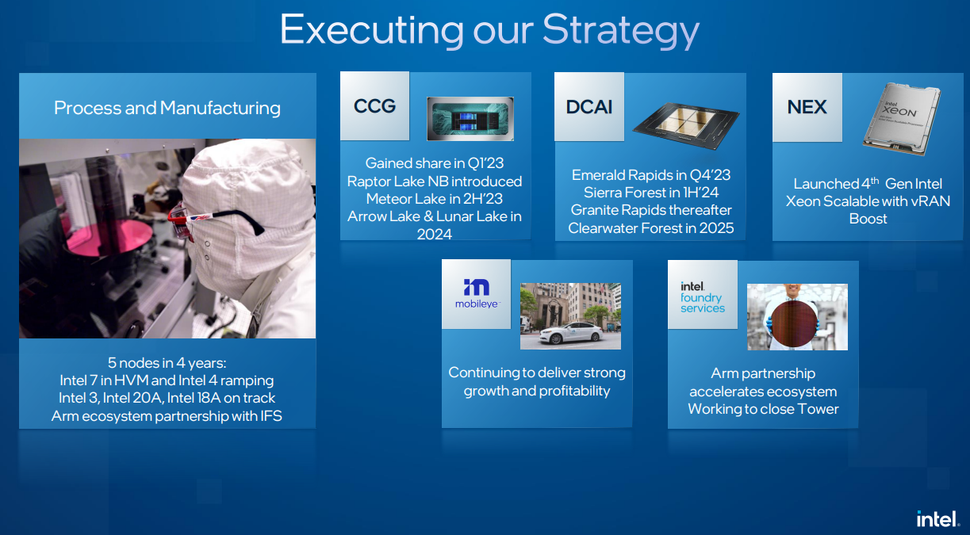 During its Q1 2023 earnings, Intel announced that it is ramping production wafers for its Meteor Lake processors for a launch in the second half of this year. These chips will be partially fabbed on the 'Intel 4' process node, a key milestone for the company as it works towards delivering five nodes in four years — a goal that the CEO Pat Gelsiner reiterated is still on track. Intel says that two of those five nodes are almost complete.
Notably, the Meteor Lake processors are Intel's first desktop PC chips that will also use components fabbed on TSMC's process nodes. Intel announced this drastic step two years ago as it grappled with the reality that its process node tech had fallen behind TSMC. For what it's worth, the company announced back in 2021 that these chips would arrive in 2023, and they are obviously still on schedule for that launch. Intel will use this blended chip approach for several new chip generations.
Intel also says that its Arrow Lake and Lunar Lake products remain on schedule to launch in 2024. Intel will use its 3D Foveros packaging tech as the bedrock for the consumer market's Meteor Lake, Arrow Lake, and Lunar Lake processors. This technology allows Intel to stack chiplets vertically atop one unifying base die with a Foveros interconnect. You can read more about that technology here.
Not only will Meteor Lake represent the first chips with the Intel 4 process node, an EUV-enabled node that is a critical step for Intel as it looks to right the ship, but they will also be the first Intel desktop PC chips that use process node tech from TSMC.
As you can see in the table below, Meteor Lake's new design will use multiple different process nodes in the same chip package. In this case, three tiles (similar to chiplets) use TSMC process nodes – the GPU, SOC, and IOE tiles.
This technique affords cost advantages, as the larger, older TSMC nodes can be used for functions that aren't as sensitive to performance. Offloading those functions from the CPU tile also improves yield, and thus cost, for this critical component. This also provides Intel with the flexibility to swap in new tiles to create faster next-gen chips, like the CPU tile for Arrow Lake which will use the 20A process node. You can read the deep-dive details of the Intel 4 process here.
All signs currently point to the Meteor Lake desktop PC chips being limited to comparatively lower-end Core i3 and Core i5 models that are rated for conservative 35W and 65W power envelopes, but Intel has yet to make a formal announcement. We expect to learn more as we near the launch later this year.
Swipe to scroll horizontally
| | |
| --- | --- |
| Intel Meteor Lake Tile/Chiplet | Manufacturer / Node |
| CPU Tile | Intel / 'Intel 4' |
| 3D Foveros Base Die | Intel / 22FFL (Intel 16) |
| GPU Tile (tGPU) | TSMC / N5 (5nm) |
| SoC Tile | TSMC / N6 (6nm) |
| IOE Tile | TSMC / N6 (6nm) |
Intel also gave a minor update to its data center roadmap that it unveiled last month by reiterating that its Sierra Forest chips will launch in the first half of 2024. Sierra Forest, its first-gen efficiency Xeon, will come with an incredible 144 cores, thus offering better core density than AMD's competing 128-core EPYC Bergamo chips. Granite Rapids will follow soon after.
Swipe to scroll horizontally
| | | | |
| --- | --- | --- | --- |
| Row 0 – Cell 0 | 2023 | 2024 | 2025 |
| Intel P-Cores | Emerald Rapids – Intel 7 | Sapphire Rapids HBM | Granite Rapids – Intel 3 | Row 1 – Cell 3 |
| AMD P-Cores | 5nm Genoa-X | Turin – Zen 5 | — |
| Intel E-Cores | — | 1H – Sierra Forest – Intel 3 | Clearwater Forest – Intel 18A |
| AMD E-Cores | 1H – Bergamo – 5nm – 128 Cores | — | — |