They may be a little late, but the first crop of PCIe 5.0 SSDs have finally arrived at retail. The Inland TD510 is one of the first available and affordable models, and its leading-edge performance of 10GB/s of sequential read throughput and 1.5 million random read IOPS is a good indicator of what we can expect from the new wave of drives.
The Inland TD510 offers unprecedented bandwidth with a compatible system, and performance as a whole is quite good. The heatsink is sufficient but comes with a largely ineffective fan, and this basic reference design matches Inland's no-frills approach to SSDs. There's no extra software support, but you do get an extra year of warranty. The TD510 is a good choice for early adopters, but faster PCIe 5.0 drives are coming later this year. Let's see how the Inland TD510 fares in our test suite.
Specifications
Swipe to scroll horizontally
| Product | 2TB |
| --- | --- |
| Pricing | $279.99 |
| Form Factor | M.2 2280 |
| Interface / Protocol | PCIe 5.0 x4 |
| Controller | Phison E26 |
| DRAM | DDR4 |
| Flash Memory | 232-Layer Micron TLC |
| Sequential Read | 10,000 MBps |
| Sequential Write | 9,500 MBps |
| Random Read | 1,500K |
| Random Write | 1,250K |
| Security | N/A |
| Endurance (TBW) | 1,400TB |
| Part Number | – |
| Warranty | 6-Year |
The Inland TD510 is currently only available at the 2TB capacity, but this is a perfectly reasonable amount of storage. A 4TB option would be nice, but 2TB is quite cost-effective, selling for $279.99 regularly and at the time of review. This carries a premium over high-end PCIe 4.0 SSDs, but it's competitive for the new crop of 5.0 drives.
The drive can eke out up to 10,000 / 9,500 MBps for sequential read/write throughput and 1,500K / 1,250K for random read/write IOPS. This is on the lower end for 5.0 SSDs but still offers a bump over PCIe 4.0 SSDs. The TD510 is warrantied for 1400TB of written data, which is pretty standard, and it gets an extra year of warranty as Inland covers it for six years versus the standard five.
Software and Accessories
The Inland TD510 is a no-frills offering, so it comes with no software. The included reference heatsink is listed as removable, so you can use a motherboard's M.2 heatsink instead. For software, we suggest the free CrystalDiskInfo for S.M.A.R.T. monitoring and Clonezilla for cloning.
A Closer Look
Image 1 of 3
Removing the heatsink wasn't quite as easy as the TD510's packaging would have you believe. We surely don't recommend you attempt the process if you don't have to. The small fan is optional, and we recommend not plugging it in as it does not provide much in the way of improved cooling performance but does generate noise. This is because the reference heatsink doesn't have an air channel that allows the air to exit the small chamber underneath the fan.
Under the heatsink, we find an SSD controller, a DRAM package, and two NAND packages. There are two more NAND packages on the underside, for a total of four.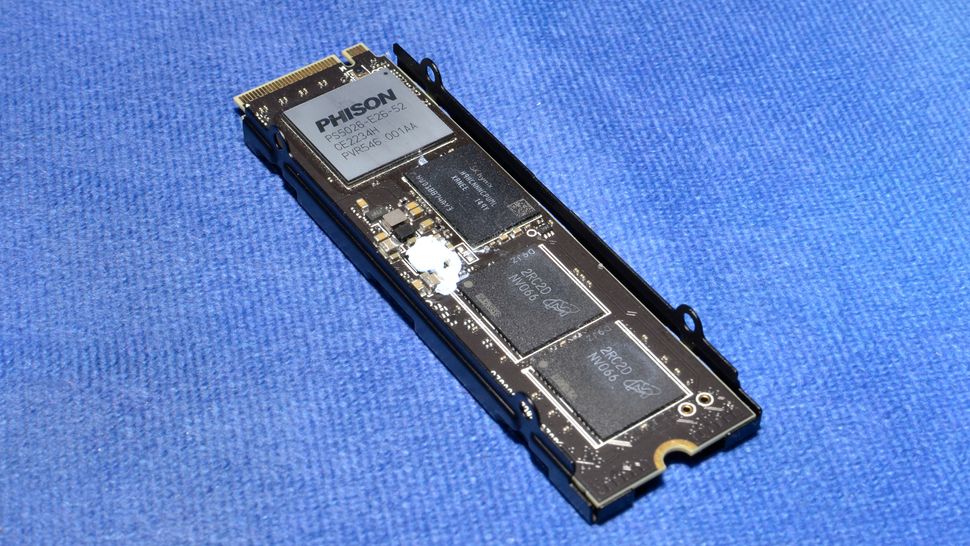 The Phison E26 controller will become a familiar sight on PCIe 5.0 SSDs. Initial drives reach up to 10 GB/s, but future models can go higher, as with the Crucial T700. This controller is often paired with 4GB of LPDDR4. This is twice the typical amount of DRAM, and this type of memory is more efficient than DDR4.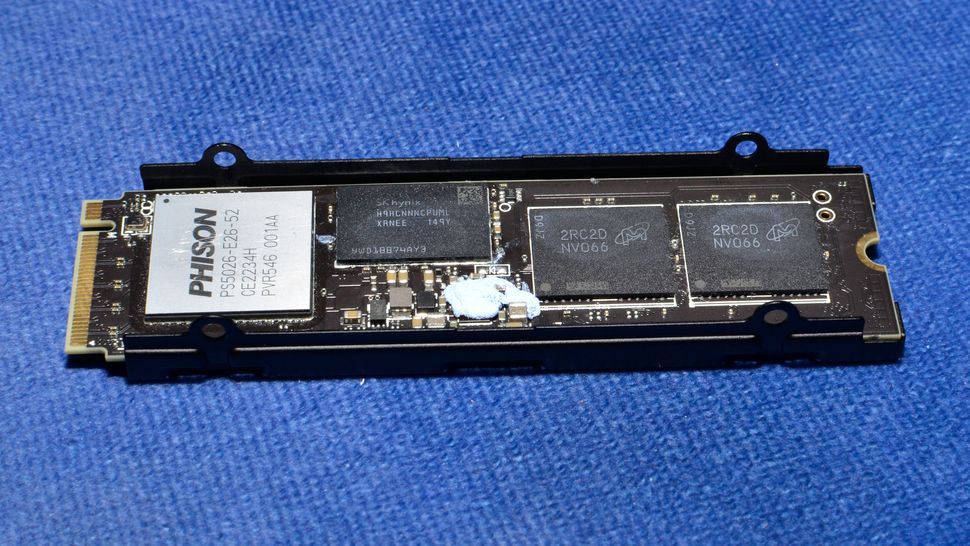 NV066 is the FBGA code for 4Tb of Micron's 232-Layer TLC (B58R). Each package is in a quad die configuration (QDP) for an overall total of 2TB. It should be possible to achieve up to 8TB with this layout.
MORE: Best SSDs
MORE: Best External SSDs and Hard Drives
MORE: How We Test HDDs And SSDs
MORE: All SSD Content