Although the Radeon RX 7900 series (opens in new tab) has already launched, AMD's Radeon RX 6800 (opens in new tab) continues to be one of the best graphics cards (opens in new tab) in the retail market. Sasa Marinkovic, senior director of gaming marketing at AMD, wants to make sure that consumers don't forget that, sharing a chart (opens in new tab) showing the Radeon RX 6800's dominance over the GeForce RTX 3070 (opens in new tab).
Both the Radeon RX 6800 and GeForce RTX 3070 are last-generation products dating back to late 2020. Back then, it didn't make much sense to compare the two cards because they belonged to different tiers due to their MSRPs. The Radeon RX 6800 hit the market with a $579 MSRP, whereas the GeForce RTX 3070 launched with a $499 MSRP. Of course, neither graphics card retailed at their respective MSRP during 2020–2022.
Things have thankfully settled down since the end of Ethereum mining (opens in new tab). The cheapest Radeon RX 6800 has dropped to $479 (opens in new tab), while the GeForce RTX 3070 now starts at $456 (opens in new tab), making them direct rivals.
While Nvidia has now launched the GeForce RTX 4070 (opens in new tab) to replace the GeForce RTX 3070, AMD hasn't released a successor to the Radeon RX 6800. The GeForce RTX 4070 also enters the market at $599, 20% higher than its predecessor's MSRP while offering GeForce RTX 3080 (opens in new tab)-level performance at lower power requirements. That means pitting the GeForce RTX 4070 against the Radeon RX 6800 sort of misses the point, especially when we expect RTX 4060 Ti (opens in new tab) to arrive before the end of the month.
A better comparison will be between the upcoming Radeon RX 7700 (XT) and GeForce RTX 4060 Ti, or between RTX 4070 and whatever equivalently priced GPU AMD wants to ship. But let's go ahead with AMD's comparisons for now.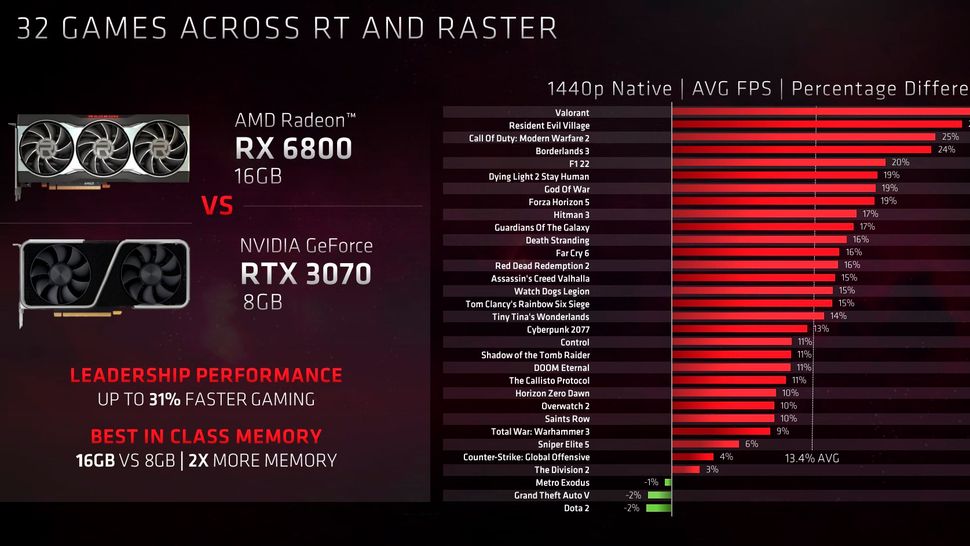 Although the chart claims that the Radeon RX 6800 delivers faster ray tracing (RT) and rasterization performance, Marinkovic later clarified that it was an error. The above performance figures only apply to rasterization performance. Oops.
In Marinkovic's comparison across 32 games, the Radeon RX 6800 was, on average, 13.4% faster than the GeForce RTX 3070. The performance delta varies between -2% and +31%. The GeForce RTX 3070 only outperformed the Radeon RX 6800 in Metro Exodus, Grand Theft Auto V, and Dota 2, though the performance difference was basically a tie. The tweeted image also highlights how the Radeon RX 6800 offers twice as much onboard memory as the GeForce RTX 3070, a selling point that AMD has been very vocal about (opens in new tab).
AMD tested the two graphics cards at a native 1440p (2560×1440) resolution. However, the chipmaker didn't clarify which graphics settings it had used for the tests, which is an important piece of data. Nevertheless, AMD's claims generally align with our own results so there doesn't seem to be any funny business going on.
In our test suite across nine games (data from our updated GPU benchmarks hierarchy (opens in new tab), using a 13900K), the Radeon RX 6800 delivered 14.3% higher rasterization performance than the GeForce RTX 3070 at 1440p with Ultra settings. However, the scale tips in the GeForce RTX 3070's favor when it comes to ray tracing performance. That's probably the reason why AMD omitted that comparison. The GeForce RTX 3070 offered 17.2% and 14.9% higher ray tracing performance in our 1080p and 1440p tests, respectively, across six demanding ray tracing games.
Neither AMD's numbers nor our own testing results include upscaling technologies like DLSS (opens in new tab) and FSR 2 (opens in new tab), which could further muddy the waters. Perhaps more importantly, AMD CEO Dr. Lisa Su confirmed a week ago that AMD's mainstream Radeon RX 7000-series graphics cards (opens in new tab) will launch before July. She didn't explicitly state which lineup, so there's no guarantee that we'll se an RX 7800 or 7700 by then, but the Radeon RX 7600 (opens in new tab) is expected to arrive within the next month.
If you're mostly concerned with rasterization performance, yes, the Radeon RX 6800 can beat the RTX 3070. The RTX 4070 can also beat the 3070 in rasterization performance, by around 30%, which means it's also beats the RX 6800 by around 13%. Factor in ray tracing and DLSS and the gap would only grow. But really, no one should be purchasing a last-generation graphics card for $480 right now when potential replacements are right around the corner.